"BUILT ON STRENGTH GUIDED BY VISION"

( click above image for e-COURT℠ / ICOCR Global services )
E-Court℠ ( view IN OrganoGram) provides an On/Off-Line platform for
Counsel & Consult Seekers & Providers in all Indian States ( Click below left-right arrows )
under global "service" tradenames/marks :E-COURT℠ , E-COUNSEL℠ and E-CONSULT℠

e-Court℠ who we are / what we do
We are e-Court℠ Legal Services Int'l. Pty. Ltd. ( hereafter called e-Court℠ ) - The company provides Counselling / Consulting & Conflict Resolution, and is the Australian subsidiary of ICOCR - The International Court for Online Conflict Resolution. The latter refers to services around the globe and is part of the Ottawa, Canada based the 3-D Network Co. Int'l Inc. ( 3-DNET ), a Holding Co. and online platform active in more than # 45 countries, also view Organogram. e-Court℠ AU Legal Services Int'l. Pty. Ltd. filed its charter on March 18 2019 with the Australian Company ACN Number 632298956.
e-Court℠.AU is an ON & OFF-line platform active throughout Australia, where Advice ( Counsel & Consult ) Seekers are linked to independent "arms-length" participating 'vetted" professionals who can provide competent, affordable, secure, transparent, speedy counselling and other resolution.
These professionals whilst not being employees of e-Court℠ have been thoroughly vetted prior to offering their services. View Counsel/Consult Seekers & Providers near bottom of this webpage. We are Australia's premier facilitator & most exciting interactive / in real time 24/7 ODR/ADR Network & we belong to the Int'l Court for Online Conflict Resolution Inc. ( ICOCR group of companies ).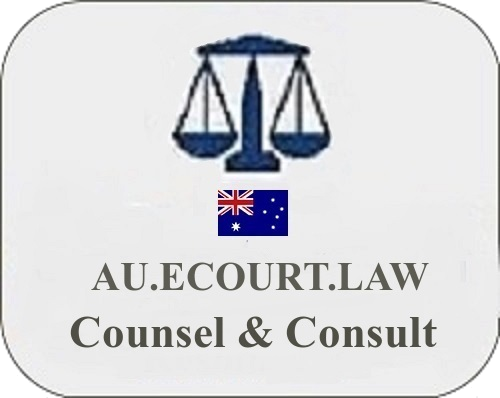 Our Mission statement:
e-Court℠ / PeaceKeeper aims to be a champion for the consumer, achieving this by offering passionate and visionary values. These are: Value for Money: To offer honest, simple, and transparent pricing. Quality of Service: To offer services without compromising any of e-Court℠'s values. Specifically to be professional and with unquestionable integrity. For the People: To offer Legal Counselling services for everyone, not just those who can afford it. Challenging: To offer new and innovative ideas, to always push the boundaries of conventional thinking. Force for Good: e-Court℠ would like to see itself as making a positive contribution to peoples lives and as a force for good. We achieve these goals by : what sets us.
"First-Choice" Counsel & Consult Practitioners Roster

Click Image- Sample
As of today, in excess of #20,000 (legally) trained professionals throughout Australia are ready to serve e-Court℠ ( all ) member categories. Members can use the following search box to locate a professional firm specializing in a particular area, in a particular state. This specialized search is both powerful and comprehensive, because it searches multiple e-Court℠ state/region directories and thousands of first-choice member firm web sites in a fraction of a second. Membership is a prerequisite.









* ( from legally trained prof's. ) ** ( from non-legally trained prof's.)


( Click HERE for FEATURES / BENEFITS & HERE for ROADMAP)

e-Court℠ is flexible since the Individual, Company or Organization can start a case with or without the assistance of a professional. No matter what their choice is, (conflicting) parties can always rely on an expert & impartial e-Court℠ "vetted" Lawyer, Arbitrator, Judge, Mediator or Counsellor when they submit a case on e-Court℠ for resolution. And all that in six easy steps and in just six weeks. Traditional offices do not work anymore, click Here ! It is important to note that participating professionals whilst not being employees of e-Court℠ have been thoroughly vetted prior to offering their services. This guarantees the integrity of our global network.

When you join the e-Court℠ family you can participate in our vast global (social) resolution network, enjoy benefits such as unsurpassed security, vanity urls, escrow privileges, legal document archives, accounting software, video software, deep discounts on proprietary software plus many other benefits, not least of all conflict resolution and legal counselling from "vetted" professionals on a variety of issues with prior knowledge of costs & duration and perhaps best of all interactive and in real time ? Sign up for the "no-charge" temporary membership and let us show you why we are the world's most "unique" member network providing conflict resolution & legal consulting. Give us a try, thanks !

NOTE : Professionals interested in non-arms length positions under contract with e-Court℠ should register Here !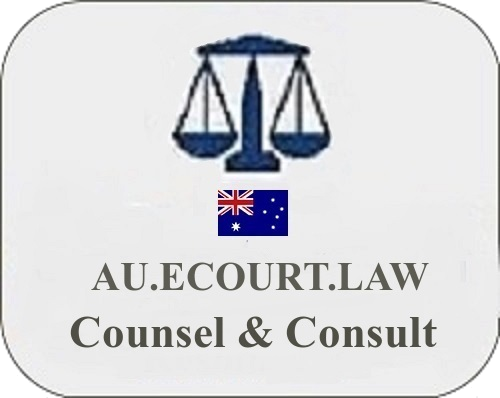 * ( by legally trained prof's. ) ** ( by non-legally trained prof's. )


( Click HERE for FEATURES / BENEFITS & HERE for ROADMAP)

* Professionals on "arms-length" basis. View sample Personal Website

Can you perform Counselling and/or Consulting in an electronic venue ? Can you bring the parties together in an environment where parties can freely, confidentially present their position ? Can you simply help to facilitate discussion, suggest a just solution which eventually resolves a dispute or counsel issue? Then you are the professional PeaceKeeper e-Court℠ needs. We believe that time an experienced (legal) professional spends on a particular case is pure thinking, and people's management, not paperwork ! Participating professionals are all thoroughly vetted.